Are you looking to make real money working from home?
If that's a yes, then I got you!
You could earn anywhere between $200- $2000 per month at home whilst in your pyjamas all day.
Olivia, are you sure I can earn money online?
Yes, 100% you can!
In the ideas to make money list below, I have used & continue to use these ways to make a bit of cash on the side and passive income.
I'm halfway sold; however, what if I'm a beginner or student or have a full-time job? Will I still be able to make money working from home?
Honestly, I believe that if you have the time, the commitment, and the drive, you will be able to make money online.
You have to be smart about your ways of working. Do the necessary things and find the time to work around your current schedule.
Look at me! I have a full-time job, and I'm currently writing this blog post at 7:30 am before work at 9.
All things are possible.
Now, we got that sorted. Let's get into the good stuff…
Here are 10 real ways to make money working from home for free this summer.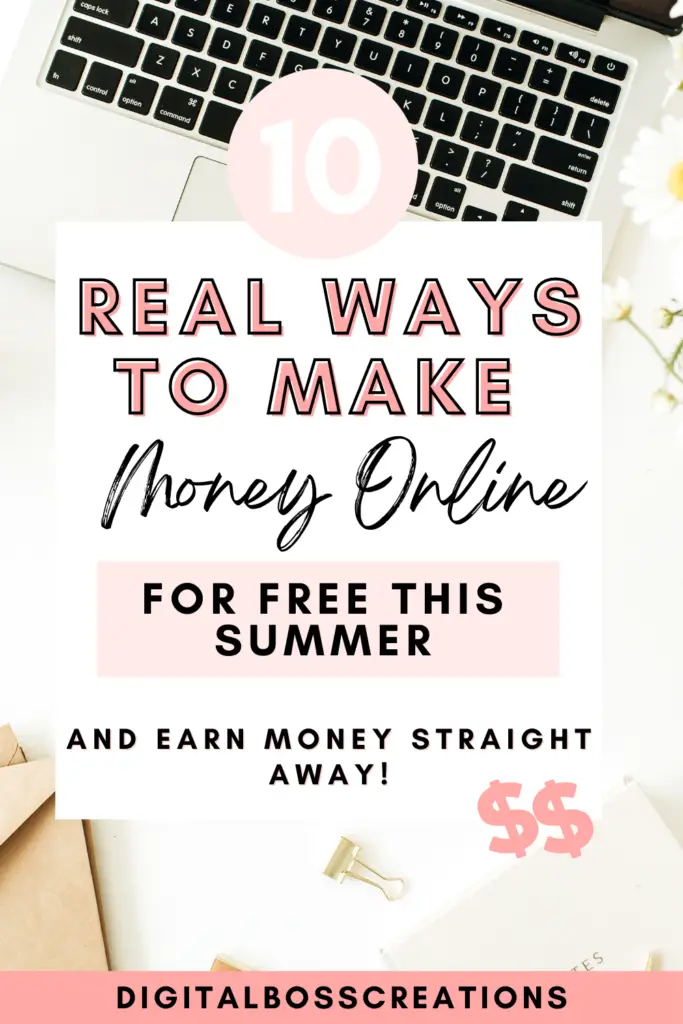 1. Online tutoring
Education is one of those areas that are in constant demand.
Teachers are needed every day, and students need to learn continuously.
Online tutoring has mega-bolted in the last couple of years (rightly so with the current circumstances), with many online tutoring companies popping up everywhere.
You can provide tuition in pretty much anything. From typical subjects like Maths, Science, and English. To languages like English, Mandarin, and Spanish. Or even unconventional subjects like Business Marketing and Economics.
I have just started tutoring (I have not made any money yet, but I will soon), teaching English & History.
And it's a ball!
The sign-up process and interview were pretty easy, I have a little experience with teaching, but most of the time, experience isn't necessary. You need to show your tenacity and enthusiasm for teaching. Also, the onboarding process was straightforward, as well.
What better time to start online tutoring than when school is out in the summer? The kids have more time to learn and prep for when they go back to school.
Here is a list of online tutoring companies:
2) Sell low/medium content books on Amazon KDP
Amazon Kindle Direct Publishing (KDP) allows people to self-publish ebooks, paperback, and hardcovers for free.
These books can then be circulated and brought via Amazon worldwide!
This is great if you are a budding writer wanting to get your book published.
Or you can sell low( a notebook with no content) or medium ( a notebook/planner with some content) content books using Amazon KDP.
How can I make low/medium content books?
You can use Canva to make your books completely free.
I have a blog post on how to make digital planners, where you can use this template and format in helping you to make your KDP books to sell on Amazon.
I have sold a few KDP books:
But, I'll be honest with you, you need to be consistent in producing books.
Also, you need to make high-quality books, research hard to find a specific niche, and figure out how you can be different from everyone else!
However, it can be done, and you can make some money working from home!
You need to be patient & consistent.
3) Selling digital products online
Digital products are sold online to customers, who then can download the product instantaneously and use it straight away.
I sell digital products in my Etsy shop, where I've made money. But it is in its early stages and continues to grow when I produce more products.
You can sell anything from printables, digital planners, digital stickers, website templates, Canva templates, digital prints, digital cards, and even online courses.
To find out more, why don't you visit my blog post to help you get an idea of what digital products you can make and sell this summer.
4) Sign up and attend focus groups
Can you believe people will pay you money to talk about yourself or a product(s), and you can do it at home!!
Focus groups are bloody fantastic! Especially if you are looking to make money quick in a short space of time.
You can get paid anywhere between £50-£300 per group for only a couple of hours (maybe a few days or weeks).
And guess what you can attend/sign up for as many focus groups as your want.
I have done a couple in the past and made £200 in two hours.
Incredible right!
Here are a few focus groups companies:
5) Earn money with online surveys
I know you've probably heard a lot about online surveys, and maybe you have tried them out but didn't get the cash out you were looking for.
The key to earning money with online surveys is consistency (consistent is a word I use frequently).
You have to be consistent and dedicate some time a week to completing many surveys.
Trust me, I know completing surveys can be very tedious, but just look forward to that payout!
Some online surveys offer vouchers/coupons to specific stores. At the same time, others will give you money.
Here are the best online survey companies:
6) Start your online narrator career with ACX
Starting an audiobook career with ACX is 100% free, and you can do it all in the comfort of your own home.
I don't know about you, but I think this is a cool way to make money from home.
ACX allows you to audition for books you are interested in narrating, and if the Rights Holder is interested in you, you'll receive an offer to narrate the whole book, and 'cha ching', you'll get paid.
If you believe you have what it takes to become a narrator, then why not?
What do you have to lose!
7) Sell your services on Fiverr
You might have already heard about Fiverr, but in honesty, it is a great way to earn money online.
How it works is that you get to set up your gig and offer your freelance work to the world.
You can sell your services in pretty much anything. 
From writing, graphic design, website development, translation, virtual assistant, and many more!
Also, you get to price your services and create your hours.
There is so much flexibility!
One other thing, it is free.
8) Become a freelance transcript
Online transcription jobs don't require any experience. You can do it part-time in your spare time and, most notably, in the comfort of your own home.
What you'll need is:
A laptop/PC with a good internet connection
To be able to type
To understand and write English
Consistency and self-discipline
Does this sound like something you could do?
Here are some online transcription companies:
9) Start a blog
One of the great things about making a blog is that you need little money resources.
And in the long term, you can make good money from it!
I'm talking about anywhere between $1000- $10,000 (and more) a month.
However, you already know what word I'm going to say…
Yes, you need to be CONSISTENT, dedicated and set aside a lot of time.
Blogging does take a lot of work to maintain initially, but it will all pay off.
If you want to start a travel blog or any blog this summer, visit my other blog (totravelsandbeyond) to find out more and start making money working from home.
10) Sell your old/unused items online
Last but certainly not least, sell your stuff to make money online.
This is a no brainer because there are always unwanted and unused goods around your house to sell. 
So why don't you use this opportunity and make some money off it?
You could even ask your friends & family members for their unwanted goods and start selling their stuff too!
Many different online platforms allow you to sell your stuff, usually for free:
eBay (my favourite for old electronics)
Depop ( my favourite for clothes, shoes and accessories) 
Boot sales
Selling your stuff online is a great way to make money fast today!
Final Thoughts: Real ways to make money working from home
And there you have it! My 10 real ways to make money working from home for free this summer.
There are many opportunities just waiting for you to make money online.
And all you have to do is:
Be open to the opportunities
Dedicate time
Be prepared and organised
And lastly, you know what I'm going to say, be consistent!
Once you have found your opportunities and have done everything above, trust me; you'll be making some extra cash in no time!
In the comment section below, let me know if you'll be starting any money-making opportunities.
If you are looking for some free resources, check out my freebies page!