Digital planners are immensely popular right now! You can make some serious cha-ching. I have started to sell digital planners on Etsy, and in a few months, I've managed to sell over 100 digital planners ( and growing)! Stay tuned for my 10 profitable digital planners to sell on Etsy.
But first, let's get to the prelims..
What are digital planners?
A digital planner is a digital version of the traditional paper planner.
Instead of paper, a digital planner is in the form of a PDF file that can be made fillable/interactive and uploaded onto an iPad/ tablet or/and phone.
Similarly to a typical planner, a digital planner helps you organise your days, weeks and months, gets you on track and keeps you motivated and productive. 
However, what I love about digital planners are:
They are eco-friendly- no more wasting paper!
Add as many pages as you like without buying a new planner.
This leads me to… duplication. You can duplicate how many pages your heart desires.
More aesthetically pleasing, you can design your planner how you wish – add digital stickers, fonts, pictures and other elements.
Digital planners are more flexible and easily manipulated to however you want them to be.
Now, the reasons why I love to sell digital planners:
Extremely easy to make! Visit my digital planner tutorial to find out how easy.
Not that many resources are needed to make your digital planner.
They sell like hot cakes!
You only need to create your digital planner once, and you can sell it how many times you want.
A good source of passive income stream
You won't need to deal with delivery, quantity, quality problems, and other logistics. Your customer will get everything they need after they download their digital planner.
They are hella fun to make! I enjoy researching, designing and creating digital planners catering to my planner-loving customer.
How do I create digital planners?
There are several ways to create digital planners, but the easiest and most inexpensive way is with a graphic design software called Canva.
I use Canva religiously, which has helped me build a successful digital planner empire.
Canva has a free version with many different tools and resources. But, I highly recommend upgrading to Canva Pro as it will allow you to take your digital planners to the next level.
Check out my Canva vs Canva Pro blog to find out more.
Or/and start building your digital planner empire today with a 30-day trial of Canva Pro. And start selling digital planners like hotcakes!
Okay, I'm sold, but how do I sell my digital planners?
There are several different platforms that will allow you to sell your digital planners:
My favourite platform to sell my digital planner is Etsy.
Etsy is straightforward, fantastic for beginners, and free (there's a small listing and selling fee).
Okay, Let's get started!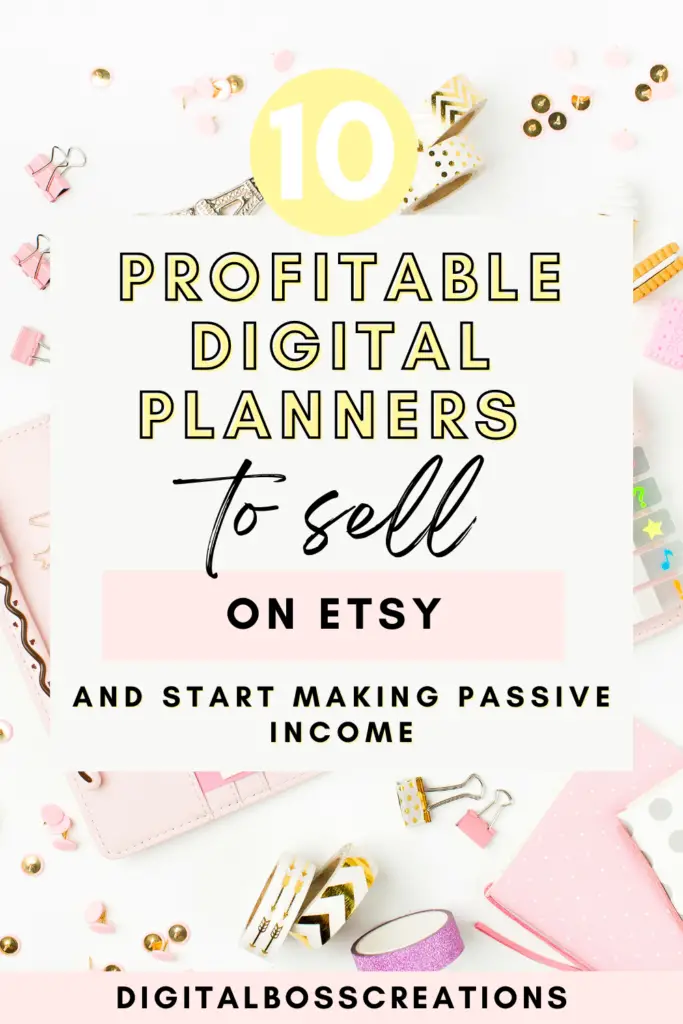 *This post may contain affiliate links, meaning If you use these links to make a purchase, I may earn a small commission at no cost to you. Thanks.*
10 profitable digital planners to sell on Etsy
Here is a list of my top profitable digital planner ideas to help you in your digital planner empire journey. 
1) ADHD digital planners
Attention-deficit/hyperactivity disorder (ADHD) planners are special planners tailored to individuals with ADHD. 
Individuals with ADHD tend to have "a short attention span; they constantly fidget and act without thinking (NHS.co.uk)." 
By creating ADHD digital planners, you are making them for a specific clientele, finding ways to tend to their needs ensuring that they remain organised, productive, and, most importantly, confident in themselves.
ADHD digital planners are my top sellers on Etsy. Take a look below.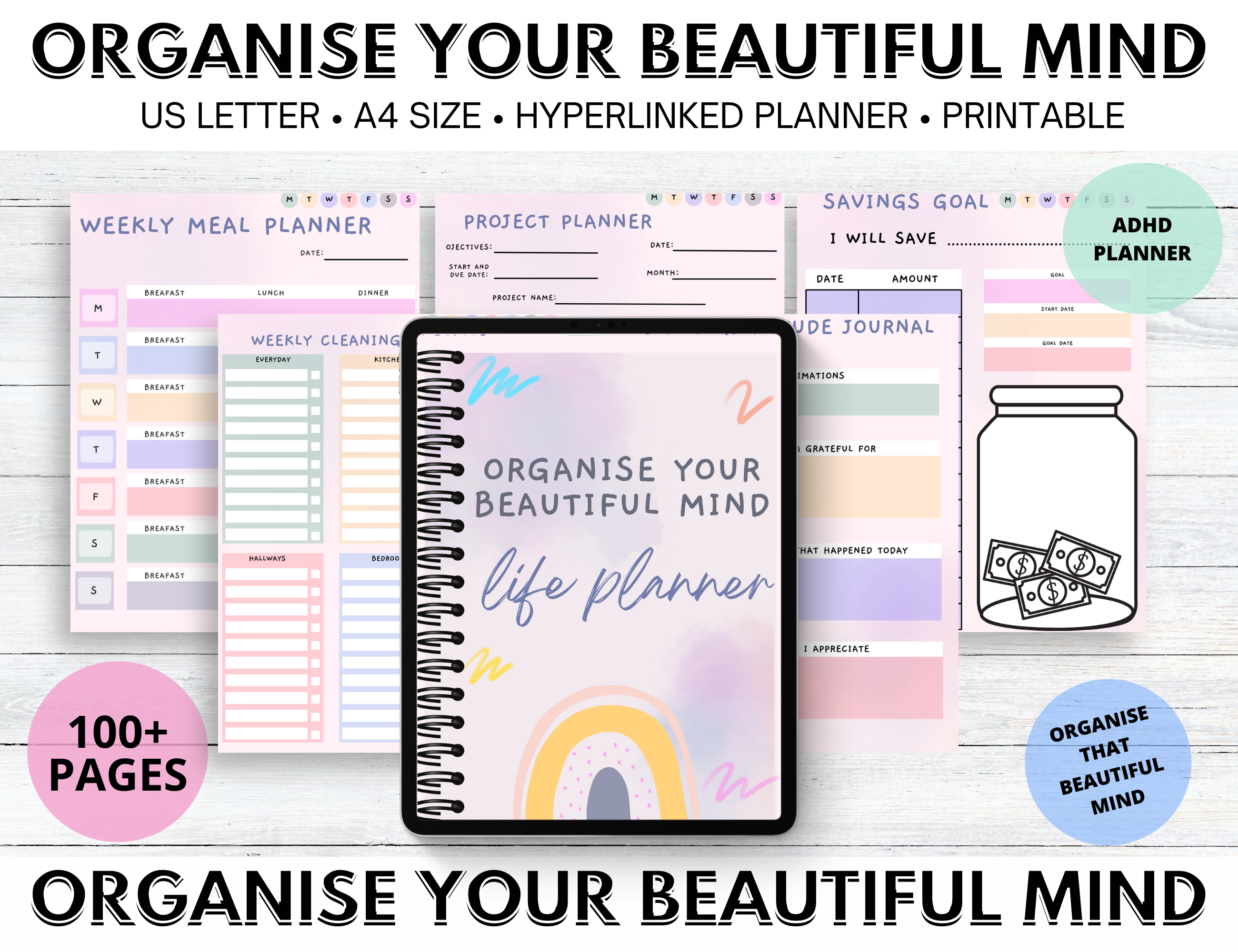 2) Digital Self-care planner
Self-care planners help customers set time for themselves and organise their self-care plans.
They usually involve a full range of:
Exercises
Trackers
Journalling prompts
And much more to get people to feel good about themselves.
Self-care planners also help ensure that your customer's physical, mental, emotional, spiritual, creative and social needs are being looked after.
Additionally, it also stresses the importance of taking the time to nurture those needs.
3) Digital Wellness/ mental health planner
Wellness planners have been rising in popularity recently, and you can find a wide range of these planners in many different forms.
But essentially, wellness planners are a safe place where customers can track their mental health, identify their triggers and work through their stressors.
Some planners include:
Habit & sleep trackers
Writing prompts
Exercise techniques
Gratitude logs
Check out my Mental Health Journal below.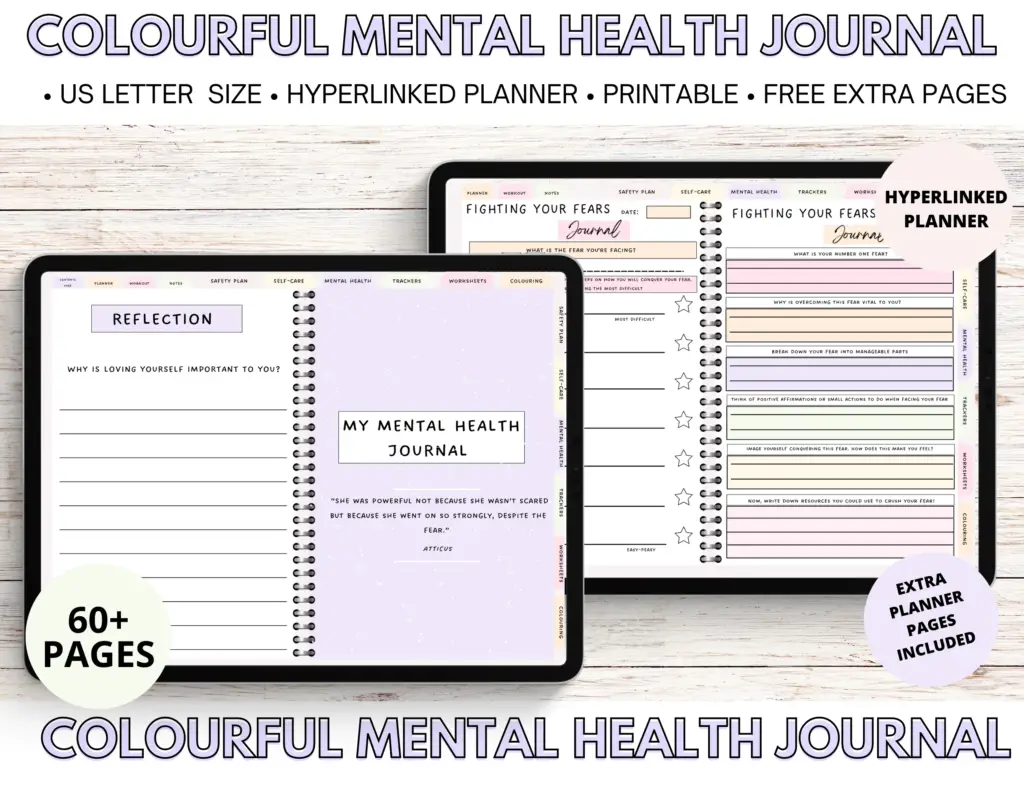 4) Digital wedding planner
Weddings are one of the most stressful events ever!
Planning is crucial for every wedding.
This is why a digital wedding planner could be a good idea for you to take forward and sell online.
Wedding planners include:
An inspo section
Checklists & trackers
Guest lists
Contact lists
Wedding games
Honeymoon planning.
You could even branch out and include bachelorette and maid of honour planners.
Check out my Bachelorette Party Planner Printable below for inspo.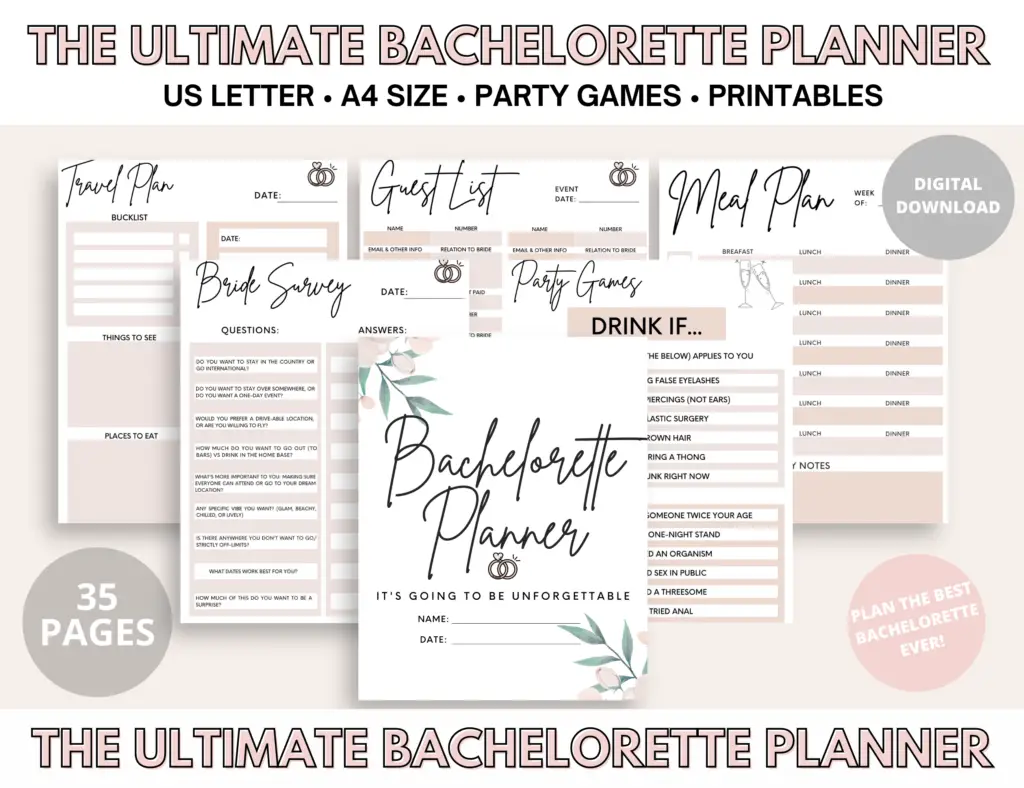 5) Digital beauty planner
A beauty planner is a planner/journal that helps your customer organise their beauty routine.
It helps organise beauty routines by including:
Trackers
Tables
Exercises to help them plan their skincare, hair & body care regime.
You could also include affirmations/ quotes and daily/weekly reflection logs to help them remain optimistic about themselves and on track in their self-esteem journey.
6) Digital social media planner
We all know that social media is insanely popular right now!
And billions of people use it daily, whether for personal or business-related reasons.
But that is where a digital social media planner comes in for the latter.
Social media planners can help your customers:
Plan, organise, and brainstorm ideas,
Manage and keep track of social media accounts & sponsorships,
To set goals.
This planner is to ensure that they reach the social media successes they desire.
7) Digital small business planner
Small business planners help track business goals, sales and products and outline a clear business and marketing plan.
As a result, to guarantee that your customer reaches the success they want.
The digital planner could include:
Various trackers
Order forms
Business goals,
A clear business plan
Client & supplier list
Tax information.
You could also expand and make your business planners for a specific area—for example, blogger business planner, youtube business planner, or handmade craft business planner.
Oh no, it doesn't stop there!
Furthermore, you could include work/office business planners as well!
Check out my work meeting planner below for inspo.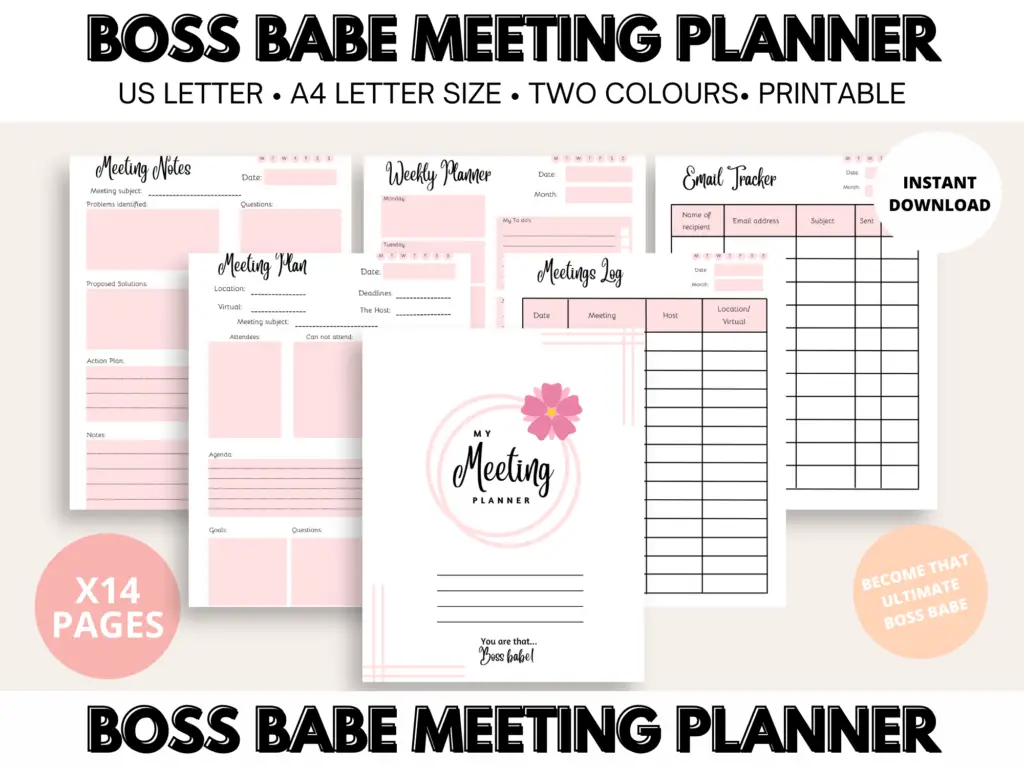 8) Digital academic/student planner
An academic planner is a planner that helps students:
To stay organised
Remain motivated
Track their projects
Assignments and exams
Meet deadlines
Track class schedules
Take down study notes
You could include timetables, trackers, writing prompts, worksheets, assignment lists, contact lists etc.… (the world is your oyster)
9) Digital pet planner
Everyone loves their pets and wants to ensure they are cared for properly.
But, the one thing that is hard when caring for pets is keeping track of their needs.
And that's where pet planners come to play!
In your digital pet planner, you could include many pages, including:
Pet Information
Vet & medication trackers
Pet vaccination
Food diaries
Habit trackers
Pet sitter notes.
10) Digital travel planner
A travel planner is necessary for any travel enthusiast.
Travel digital planners will help keep your customer's travels organised, document their memories, and ensure that their travel plans and goals are met.
These planners include:
Itineraries
Daily planners
Budget trackers
Travel inspo
Travel memories,
Pre-planning information
Packing tips and more.
Travel is a big area that you could easily use to your advantage to niche down your planners.
For example, you could sell cruise travel planners, camping travel planners, hiking travel planners etc..
Check out my digital road trip planner below for some inspo.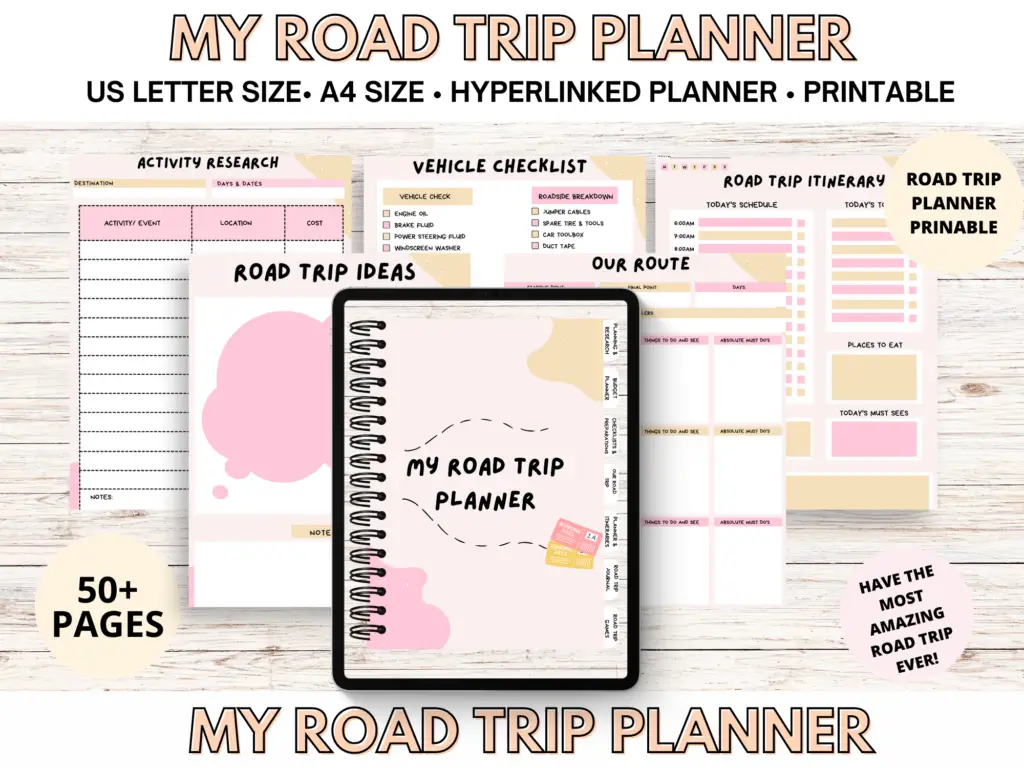 How do I know that these digital planners are profitable?
You are probably wondering how I know whether these digital planners will generate sales. 
When I researched to find the best digital planners for you, I looked for four things to include in my research:
The average monthly number of searches
The average monthly number of clicks
The average clicks to the ratio (CRT)
How much competition is associated with the digital planner (keyword)
With the first three, you want a high volume – average search & clicks 100 or more and average CTR 100%.
However, with competition, you want a low number under 10,000. This is because you have a greater chance of selling your digital planners if there isn't much competition.
The platform I use to help me with my product research and SEO is eRank.
And guess what!!! They have a free version too.
Here's a snippet of eRank below


As you can see, each of the four categories for the social media planner is green, which means it might be an excellent opportunity to start selling social media planners.
Other Etsy product research and SEO tools include Marmalead and Alura.
Searching on Etsy
One thing you should always do when trying to find a profitable digital planner is to research Etsy.
But first, ensure you are in incognito mode and then research away!
When researching Etsy, look out for competitors, scope the price range and product listing details and use the auto completes for keyword ideas in the search bar.
Google Trends
Lastly, good old google!
Google Trends will help you research keyword ideas and plan your digital planners.
And, oh yeah, it's free to use.
Create digital planners like a boss babe course
If you want to learn the ins and outs of creating digital planners to sell on Etsy, my course, Create Digital Planners Like A Boss Babe, is for you!
This course is specially tailored to beginners to help them create fabulous digital planners that customers can't stop buying.
What's included in the course:
Easy to follow video tutorials to help you create digital planners from start to finish, using Canva and PowerPoint
Over 50+ free Canva templates to help you to create digital planners and to upload a digital listing on Etsy
Learn different graphic techniques using Canva
A free bundle of fonts and graphics that you can use for commercial use
Two bonus sections: how to add value to your digital planners & how to sell your digital planners on Etsy
A 30-day guarantee if you are unable with your purchase (which I'm sure is very unlikely!)
To find out more about this course, click here.
Final thoughts: profitable digital planners to sell on Etsy
There you have it, my list of profitable digital planners to sell on Etsy
Hopefully, you have some ideas about what digital planner you want to create.
I know I can't wait to see them all.
And remember…
You can start building your digital planner empire today with a 30-day trial of Canva Pro. And start selling digital planners like hotcakes!
Please comment below and let me know if you are creating any digital planners. 
---
You may also love:
Tools To Use To Help Build Your Digital Planner Empire:
If you are looking for some free resources, check out my freebies page!