Are you an Etsy seller looking for free Etsy seller tools to boost sales and grow your store?
If so, you're in the right place!
I was like you, unsure of what Etsy seller tools are out there to optimise my store and increase sales.
However, what I'll tell you next will blow your mind!
Did you know you can use free artificial intelligence (AI) tools to help you enhance your Etsy business?
Yep, you heard me AI tools, and there are free and super easy to use.
In this blog post, I'll go through 4 helpful AI Tools from Creative Fabrica to help you skyrocket your Etsy sales and drive traffic to your Etsy store. Additionally, check Printify's how to sell on etsy guide for beginners to launch your side hustle successfully right away.
What is Creative Fabrica?
Before we delve into the amazing AI tools from Creative Fabrica that you can use to optimise your Etsy store and boost sales, you may be wondering what Creative Fabrica is.
Well, let me tell you, if you haven't heard of or used Creative Fabrica before, you've been missing out!
Creative Fabrica is an online marketplace for crafters for digital files, such as fonts, graphics, and machine embroidery.
Creative Fabrica also has many really cool tools that can help you create designs.
Here are some of my favourite Creative Fabrica tools:
Fontcloud: it's a free online font manager where you can manage all your fonts
Shapecloud: allows you to create shapes using fonts – I love playing around with this tool
CF Spark: it's a great family of tools that you can use to create art, patterns, clip art and more
The one thing that I love about Creative Fabrica is that they always have a lot of freebies, like graphics and fonts, that are for commercial use.
However, Creative Fabrica is super affordable and has a yearly all-access Offer billed at $59 a year/$4.99/month. 
This yearly all-access allows you access to all of Creative Fabrica's fonts, graphics, crafts, tools and more that you can use to help grow your online business.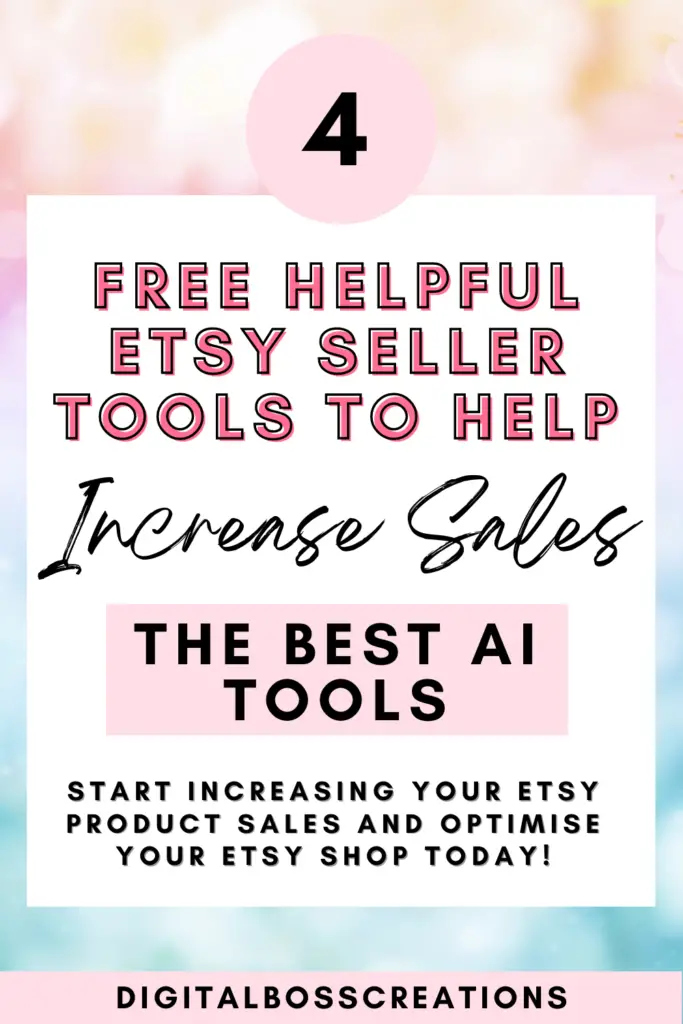 *This post may contain affiliate links, meaning If you use these links to make a purchase, I may earn a small commission at no cost to you. Thanks.*
Free helpful Etsy seller tools to boost sales and grow your store
I'll share the tools from CF Sparks Writer, a combination of different AI tools within Creative Fabrica.  
These AI tools are free to use and can help you grow your Etsy business.  
I know the struggles of finding the perfect name for your Etsy store; there are so many ways it can go from sounding too cheesy to serious. 
Figuring out your perfect Etsy store name can be hard!
Let me tell you; it doesn't have to be..
The Etsy Shop Name Generator tool is great for newbie Etsy store owners who want a list of potential names for their Etsy store.
You can use the tool to develop catchy, memorable names to help your store stand out.
All you need to do is add the products you sell, type in the keywords that relate to your brand, and hit create content.
The shop generator tool will generate 20 unique store names tailored to your needs to help you optimise your Etsy store.
You can select the perfect speciality-tailored Etsy shop name that best fits your shop branding and personality.
Creating memorable and original shop names today!
Writing an Etsy store bio is super important to optimise your Etsy shop and fully engage your customers.
Your Etsy store bio is for you to shine; it's for you to highlight your personality and quirks.
However, knowing what to put in your Etsy store bio can be tough.
The CF Sparks Etsy Store Bio tool can help you create engaging and distinctive shop bios.
It's easy to use!
All you need to do is answer a few questions like the name of your Etsy store, what products you sell, why you opened your store and some things about yourself.
Once you've answered the questions, hit create content, and the Etsy Store Bio tool will generate a unique Etsy store bio exclusively tailored to your personality and brand.
One way to increase product sales is having detailed and optimised product descriptions.
When writing Etsy product descriptions, it's good practice to incorporate relevant keywords, key features, how your product can be used, and more.
The CF Sparks Etsy Product Listing Description tool will ensure that your listing description has all the components necessary to create a comprehensive, optimised, and detailed product description.
All you need to do is answer a few simple questions, click create, and the Etsy Product Listing Description tool will do the rest.
One of the biggest reasons you may not get many sales or engagement with your products/store is that you probably don't have eye-catching listing titles using relevant keywords to describe your product to the customers.
I've seen and used many keywords unrelated to my product without considering the customer and not incorporating attention-grabbing descriptive words.
If you're guilty of this, don't worry because the Etsy Listing Title Generator tool can help you!
To use the Etsy Listing Title Generator tool, input what you're selling and relevant keywords. The Etsy Listing Title Generator tool will then work its magic.
The Etsy Listing Title Generator tool will create multiple Etsy listing titles for you to choose from. In addition, it will also help you increase your sales and provide you with extra cha-ching.
Final thoughts: Helpful free Etsy seller tools to boost sales and grow your store
And that's it, folks; my top 4 helpful free Etsy seller tools to boost sales and grow your store.
I hope you have found this blog post useful and now have some helpful Esty seller AI tools to optimise your Etsy store.
My top tips for using these helpful Etsy seller AI tools:
Is to give the tool as much information about your brand, products, and image as possible. 
Play around with the tools until you find what works for you.
Select the content that relates to your brand and products.
If you don't see results straight away, it's okay! Keep at it! This may mean that you may have to conduct keyword research further or provide the AI tools with more relevant content.
Remember that all these free Etsy seller tools are available on Creative Fabrica.
Also, Creative Fabrica is much more than producing Etsy seller tools. They have various unique digital files from graphics, fonts, and clip art, perfect for any Etsy seller. 
And the best thing is that they are super affordable! Currently, they have a yearly all-access Offer billed at $59 a year ($ 4.99/month)
Check out Creative Fabrica now!
Let me know if you have any comments or questions in the comments section below.
---
You May Also Love:
Tools To Use To Help Build Your Digital Planner Empire: