One of the things I found hard about listing digital planners on Etsy was figuring out what to write!!!
Coming up with a structure, deciding on what I should and shouldn't include, and whether SEO was relevant in the description were all things I toyed with.
Now, I have done much work and have figured out the secrets to writing a good SEO Etsy listing description for digital planners.
To help you on your Etsy business empire, whether it's selling digital planners/products, jewellery, and homeware, whatever it is, I got you!
I will lay down the foundations for creating the best Etsy listing description that customers want to read and, most importantly, understand to help you generate sales.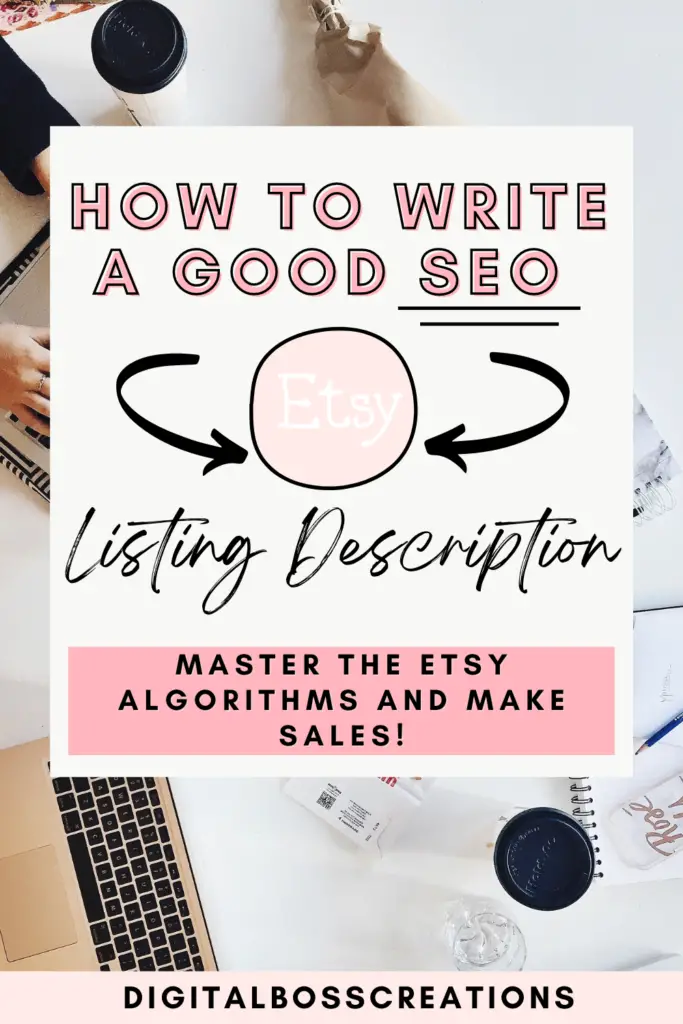 *This post may contain affiliate links, meaning If you use these links to make a purchase, I may earn a small commission at no cost to you. Thanks.*
Have a good Etsy listing description structure
A good structure is vital to all writing methods, not just for an Etsy listing description.
The structure of a good word document lays the basis for a concise, easy-to-read, and understandable piece of text. 
You want an excellent Etsy listing description structure to ensure everything flows, the information is clear, and most importantly, you want some sales! 
What I recommend doing is making a template. And don't worry, I've got you covered… use the Canva Etsy listing description template here to help!
Here are six things you should include in your Etsy listing description
1. Draw the reader in!
Start with an enticing phrase, sentence, or question. For example: "Have you been looking for something to help organise your life? Well, look no further; here is the…….". Or "Here is the ultimate digital planner that will help get your life on track and achieve your goals."
2. Explain what your digital planner/ product is about.
Use no more than 50-100 words to explain what the planner is, what it does, and how it can be used. Also, you could use this as your opportunity to make it personal. Why did you decide to create this digital planner? Was it for your personal use initially? If you have a back story, use it! It will make you/the business more personable and relatable to the customer.  
3. What's included with the digital planner/product?
Here, you could make quick bullet points on what is included with the planner once the customer purchases the product. For example, outline how many PDF files it comes with, how planner pages are included, the sizes, etc..
4. Here is all about the logistics of your digital planner.
You need to include things like the sizing measurements and materials. As it's a digital product, make sure you make it clear that no materials will be shipped to the customer. The colours can look different depending on their monitor or computer settings, and lastly, instructions on downloading the digital listing. You may want to include a video link on how to upload the digital planner on Goodnotes or how to use the digital planner.
5. Next, include your freebie, bundle package or a direct link to your website ( if you have one)
 This is the perfect opportunity to squeeze in an upsell, promotion, freebie, and link to your website. Quick tip – make it bold and pretty!
6. Lastly, highlight important information the customer needs to know
Outline your refund and exchange policy, licensing, and how to contact you with any queries or questions.
How do I write SEO descriptions on Etsy? 
Now that we understand how to plan a good Etsy listing description structure, the next step is to SEO-ify your description.
But first…….
What exactly is SEO?
SEO stands for Search Engine Optimisation and is the process of getting organic search engine traffic. 
In the case of Etsy, having a good SEO description will improve your product (sometimes even your whole shop) position in the search results pages. This means you'll have a greater chance of your product being seen. 
One of the ways to improve your Etsy listing description SEO is to incorporate relevant keywords with a good search traffic potential.
Keywords are words that customers use in the search bar. 
Short-tail keywords are no more than three words, for example, "digital planner." More specific keywords are called long-tail keywords, which could be something like "bunny self-care digital planner." 
You see the difference between the two: "digital planner" and "bunny self-care digital planner" – long-tail keywords are longer, specific, closer to what the customers are looking for, and closer to the point of purchase. Short-tail keywords (keywords) like 'digital planner' are broader and less specific.
How do I use good SEO in my Etsy listing description?
The first step in creating an SEO Etsy description listing is identifying the relevant keywords in your niche/digital planner. 
You can search for keywords in several ways, such as using the Etsy search bar, researching your competition use of keywords, google search, and eRank, a website to help with keyword research and Etsy SEO.
The next step is strategically placing your keywords in the Etsy listing description. I recommend placing a few at the start, a couple in the middle, and one or two at the end.
But the key here is not to make it spammy. 
For example, "the best bunny digital planner, pdf digital planner, good notes digital planner for everyday use." This example sounds very spammy and robotic. 
Whereas this example, "Here is the best bunny digital planner that can be used on Goodnotes, and you can easily download this PDF digital planner for everyday use." 
See the difference between the two? The last example flows, it's understandable, and we've added a few keywords to one sentence.
The last step is more of a tip, but ensure you include the keywords from your title and tags in your description. This could help impact Etsy and Google SEO positively with your Etsy description. However, do not use the exact words repeatedly throughout your description. 
Make your words clear and concise!
You want to ensure that your words are clear and concise. 
Don't include jargon or complicated words. 
The general rule of thumb is to make your description easy to read so that it is understandable by a 7th grader or below.
Also, include lots of descriptive words, like amazing, ultimate, excellent, fantastic, and beautiful, to fully engage the reader.
Generally, customers do not like to read long-winded descriptions, which can ultimately put them off from buying your product. So try and stick to a short, cheerful and informative description to help generate sales. 
Additionally, ensure that your word count is no more than 1000 (and that's pushing it).
Free Canva Etsy Listing description template
To make things a lot easier for you, I have created a free Etsy listing description template that is fully editable on Canva. This template will help you structure and write the perfect listing description. 
All you need to do is click here. After, enter your details, and you'll get a link with the Canva template where you can start editing away. 
Also, Canva is completely free! However, there is Canva Pro (paid version) which I highly recommend getting to start your digital planner empire journey
Use my link and sign up to start your 30-day free Canva Pro trial and check it out!
FAQ: good SEO Etsy listing description
1. How to make a good Etsy listing
The key to making a good Etsy listing is clear, engaging images, relevant keywords in the title and description, using all 13 tags, a concise and informative description, and a lead magnet to draw your customers in.
2. Etsy Description Generator 
There are a few Etsy description generator AI tools that can help with writing your description. But be careful when using them because they often sound similar to the following generated AI description. Also, you would still need to modify the AI-generated description, which is something to consider. Click here to learn more about the best AI product description generator.
3. Does Etsy SEO use a description?
When the customer uses the Etsy search, Etsy considers the keywords in your listing to increase visibility and your listing ranking. Using keywords in your description, title, tags, and categories is necessary to rank high and increase your sales.
4. Does Etsy descriptions matter? 
Etsy descriptions do matter! Etsy search likes to see a well-rounded use of relevant keywords, including keywords and phrases in your description. Do not neglect your Etsy listing description, as this could negatively impact your Etsy and Google Etsy sales.
Final thoughts: how to write a good SEO Etsy listing description
And that's it, folks!
Thanks for getting this far. I hope you found this blog post helpful, as I know trying to figure out what to write in your Etsy listing description can be complicated and confusing.
However, now that you have a clearer understanding of what to write, it will be smooth sailing from here on – trust me!
Remember, the key to a good SEO Etsy listing description are:
Using relevant keywords
Making it clear and concise
Understandability
Descriptive words, 
Making it look pretty.
And the key to all life problems… Templates!
Download your free Canva Etsy listing description template now.
Let me know what you think of this blog post below or if you have any questions.
You May Also Love:
Tools To Use To Help Build Your Digital Planner Empire:
If you are looking for some free resources, check out my freebies page!