The one thing I struggled with when creating digital planners was making them look cute and appealing.
I am someone who has NO graphic design experience, and trying to delve into my inner creativity was challenging and overwhelming, as I felt that I didn't have that graphic design mind/talent.
However, I have now learnt that you DO NOT need to be a graphic designer to create attractive digital planners, and there are many ways and tools out there to help you design fabulous digital planners.
I believe that when you start using these methods and tools over time, you'll be able to delve into your creativity a bit more and even hone new design skills.
In this blog post, I will show you five ways to make your digital planners look cute for free that customers cannot stop buying.
What are digital planners?
Digital planners are the same as ordinary paper planners. However, the differences are that instead of paper, the digital planners would be in a PDF file format, and the customer could download their digital planner instantly – no shipping.
Digital planners are incredibly versatile and can be used in many different ways.
Also, there are many things you can do with digital planners, such as adding digital stickers, hyperlinking, duplicating digital planner pages, and more.
How to create digital planners?
Digital planners are not as hard as it looks to create. It combines shapes, lines, colours, fonts, and graphics to create perfect digital planners. 
I have a blog post all about creating digital planners.
I create digital planners using Canva, a free graphic design tool that helps me create amazing digital planners.
Canva is extremely easy to use, with lots of tools, functions and free resources to help you create digital planners.
I have Canva Pro (paid version), which was my best investment!
However, just for you, I have a 30-day free Canva Pro trial to help you on your digital planner journey.
If you want to become an incredible digital planner creator, I have the perfect course for you….. This course will help you to create sell-worthy digital planners! 
What is Creative Fabrica?
Before we get into making digital planners look cute, I wanted to take the time to talk about Creative Fabrica, as it's where I get most of my free fonts and graphics from.
Creative Fabrica is an online marketplace selling digital files like fonts, graphics, and embroidery designs.
The best thing about Creative Fabrica is that they have a daily gift programme where they give away freebies every day for 24 hours only! Yep, you heard me, freebies. These free digital files usually have many different graphics and fonts; most of the time, they are free for commercial use!
Further, in this blog post, I'll return to Creative Fabrica to explain how you can use Creative Fabrica for free to create cute digital planners.
5 ways to make digital planners look cute for free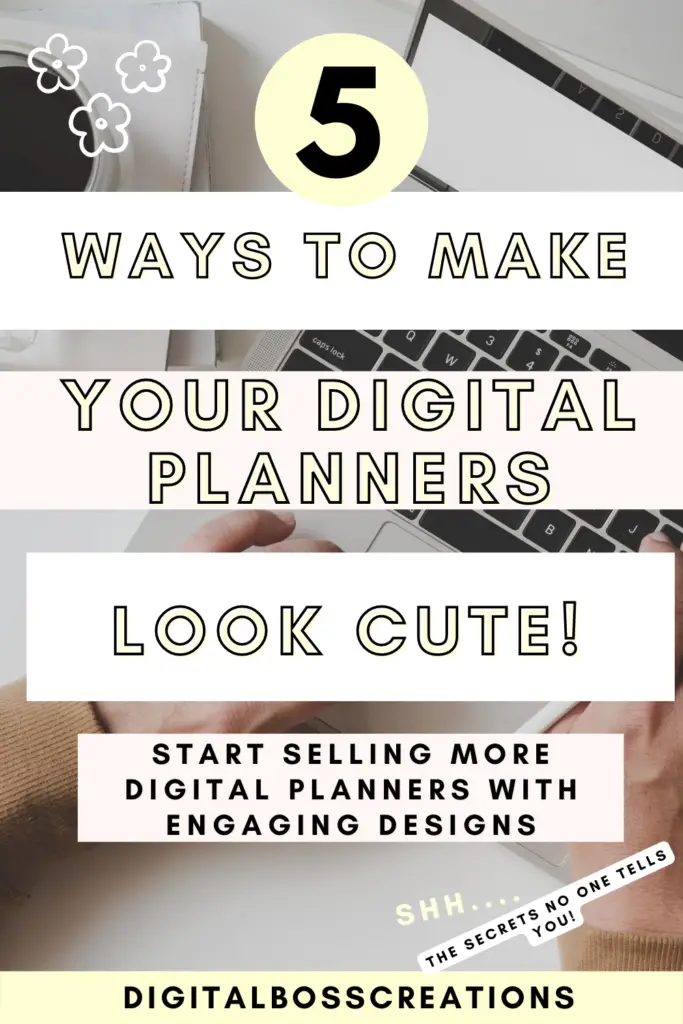 1. Get inspired and research 
The very first step when creating digital planners is RESEARCHING! 
Researching is your best friend, honestly.
By researching: 
You can scope out your competition
Gather ideas and inspiration
Learn how to design digital planners faster
Understand popular trends
Research is a must, trust me.
There is a quote by one of the greatest artists, Picasso, "good artists borrow, great artists steal."
This quote sums up one of the main reasons to research: to gather inspiration and ideas from others and then use that to create your masterpiece.
And this is where being a non-graphic designer comes to play, as you can use (not copy) the work of others as a starting point to help you design your digital planner creations.
You can use many websites to get ideas and inspiration, such as Pinterest (my favourite), TikTok, Instagram, Youtube, Etsy, and Google.
Once you have your design ideas, start sketching them out on a notepad, Word, PowerPoint, or whatever you see as the best fit for you.
2. The best colour combinations
Finding the right colour combinations and schemes can make or break your digital planners. 
The best colour combinations are essential in making your digital planners more appealing.
This is because colours are usually the first thing that communicates with a customer in how your brand/product is perceived.
Having the perfect mix of colours is vital in driving customers to your products and can help to reflect your overall brand image.
The best place to find the best/trending colour combinations is Pinterest. 
All you need to do is search colour combinations in the search bar, which generates a plethora of the perfect colour combos, and all you need to do is find the ones you like and copy the colour hex codes for your design; simple!
3. Finding the right fonts
Fonts are crucial for digital planners as they help form their overall design.
From personal experience, I know how challenging it can be to find the perfect fonts for your designs.
That's why I recommend… I think you know what I'm going to say; researching!!
Researching different fonts first is my number one tip. And again, you can use Pinterest and Google to research fonts.
But, what I like to use for research and where I get my fonts from is Creative Fabrica.
The best thing about using Creative Fabrica fonts is that they are one-of-a-kind fonts that you won't find anywhere else.
And yes, they have thousands of free best fonts to choose from for commercial use. This would allow you to play around with the fonts and pick the ones that best suit your design.
My favourite fonts I have downloaded from Creative Fabrica are Smile and Hailey; check them out and let me know what you think.
4. Finding the suitable graphics
Graphics are what help to give your digital planners that extra edge. 
But knowing what graphics work well with your digital planner depends on what digital planner you want to produce.
For example, if you're creating a Halloween digital planner, then Halloween, spooky, and dark graphics would work best for that type of planner. However, if you're creating a feminine aesthetic digital planner, feminine graphics such as flowers and minimalistic, soft and flora-type graphics may work well for this digital planner.
Once you know the theme and the digital planner you want to create, it's best to start looking for graphics to incorporate into your design. 
Creative Fabrica has thousand of free graphics for commercial use that you can use to form the design of your digital planners. The graphics range from clip art to watercolour art, and many different background options, and much more!
My favourite graphics from Creative Fabrica are Purple Galaxy Clipart, Gold Moon Elements, and Celestial Clipart & Pattern Magic Pack ( you can tell I'm obsessed with the galaxy theme).
5. Exploring different patterns and shapes
Let me tell you a little secret… a lot of my digital planner designs are from me just playing around with different shapes, creating patterns that I think look professional (lol).
I'm trying to do more and more of creating my own patterns and graphics that I can use as part of my digital planner design.
Platforms like Canva or Adobe Illustrator allow you the flexibility to CREATE! 
I recommend playing around with different shapes and colours; seeing what you come up with is a good starting point.
Or try doodling every day on your notepad or iPad and see what your inner creative self created. Trust me; you'll be surprised at what you're capable of!
Check out my blog post on creating pretty digital planner covers using shapes and colours, and look at how easy it is to create cute patterns.
Extra tip: don't overload your digital planner with too much stuff
Here is one tip that you should know. Please do not overload your digital planner with too many things, as it can potentially start to look tacky and confusing for your customer. 
You want to ensure that you have the right balance of graphics, fonts, and colours to help elevate your digital planner and entice your customer to want to buy your product.
Final thoughts: 5 ways to make your digital planners look cute for free
And that's it, folks! I hope you found this blog helpful and now have some ideas for making your digital planners look cute for free.
The key takeaways from this blog post are:
Research, research, and research are vital to gaining ideas and inspiration.
Don't ignore colours! Finding the best colour combinations can help bring your digital planner design to life.
Finding the right fonts and graphics doesn't need to be tedious and expensive. Creative Fabrica has thousands of beautiful free commercial-use fonts and graphics to choose from. But remember, don't overload your digital planner with too much.
And lastly, don't shy away from creating your own patterns. Play around with shapes, and start doodling every day to create unique digital planner designs.
As always, thank you for taking the time to read this blog post and if you have any questions, let me know in the comment section below.
---
You may also love:
Tools To Use To Help Build Your Digital Planner Empire: