Do you want to learn how to create a fillable PDF document to help you succeed in your digital planner or digital product biz?
If so, I have an easy step-by-step tutorial to help you make a PDF fillable using two ways, Acrobat Adobe and PDF Escape.
Creating fillable PDF documents is one way to help give you that extra edge in your digital planner/product empire.
And you know what that means. More cha-ching!
So sit back and relax whilst I lay out an easy tutorial on how to make PDF documents fillable.
What does fillable mean?
As in the English dictionary, fillable means 'to be able to be filled'. 
In terms of a fillable digital document, it would mean that the document allows you to fill in data digitally.
For example, fillable PDF forms, interactive worksheet documents, Excel fillable forms, and fillable digital templates.
Using fillable documents digitally means you can easily download your file and input your data without printing.
What are PDF documents?
PDF stands for 'portable document format'. It displays electronic documents on a computer, software, phone, tablet or iPad. 
PDF documents show the same content on any device and are super convenient and used by everyone.
You probably use PDF documents without even realising. Whether it's reading a PDF infographic, filling out a form, or maybe you need to sign a PDF document for work. 
We have all used PDF documents at some point in our lives.
Why are fillable PDFs selling fast on Etsy?
Fillable PDF documents are selling like hotcakes on Etsy. This is because they are super popular with low competition currently.

There are many fillable PDF documents you can create. 
Take a look at this list here:
Fillable PDF planner 
Fillable meal planner
Fillable recipe card
Fillable educational worksheets
Fillable forms for small businesses
How to use free fillable PDF files to help you build your email list
Another way you can use Fillable PDF documents to your advance is to use them as a free lead magnet to generate email subscribers.
You could create an easy free fillable PDF planner to help your customers/viewers with a specific issue. 
This could be a fillable checklist or workbook.
Although relevancy is critical! You must ensure that it's relevant to your brand and niche.
For instance, creating a fillable exercise worksheet when you help your users with blogging doesn't quite mix.
However, creating a free fillable SEO checklist fits well with the blogging niche.
You can use different platforms to build your audience and help you manage your free digital products. Convertkit is my go-to as it's easy to use, and you don't need to be a tech expert to use it.

*This post may contain affiliate links, meaning If you use these links to make a purchase, I may earn a small commission at no cost to you. Thanks.*
How to create a fillable PDF for free?
PDFescape is a free fillable PDF creator that allows you to add text, images, links, and shapes and create form fields for PDF documents.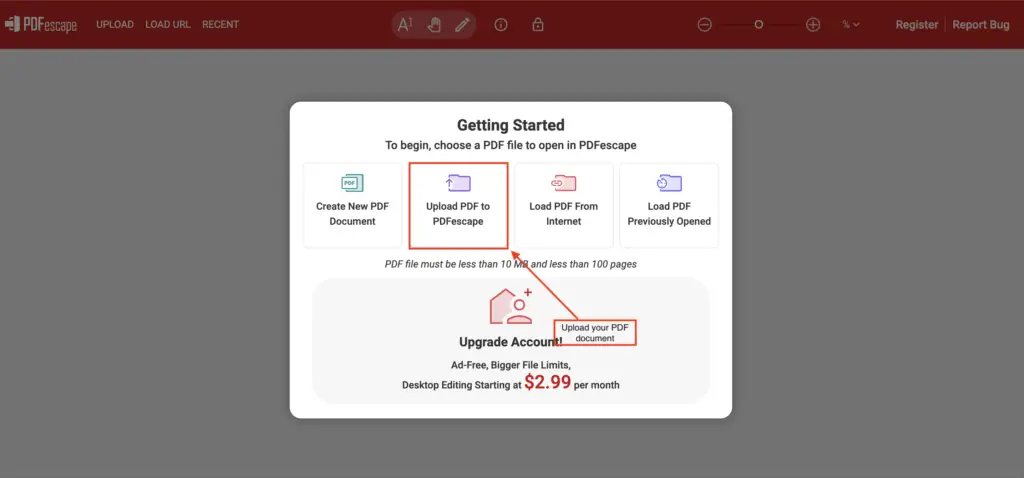 To make your PDF document fillable for free using PDFescape, select 'form field' on the left-side ribbon.
PDFescape also lets you create checkboxes, a dropdown, a list box, and a reset & submit button.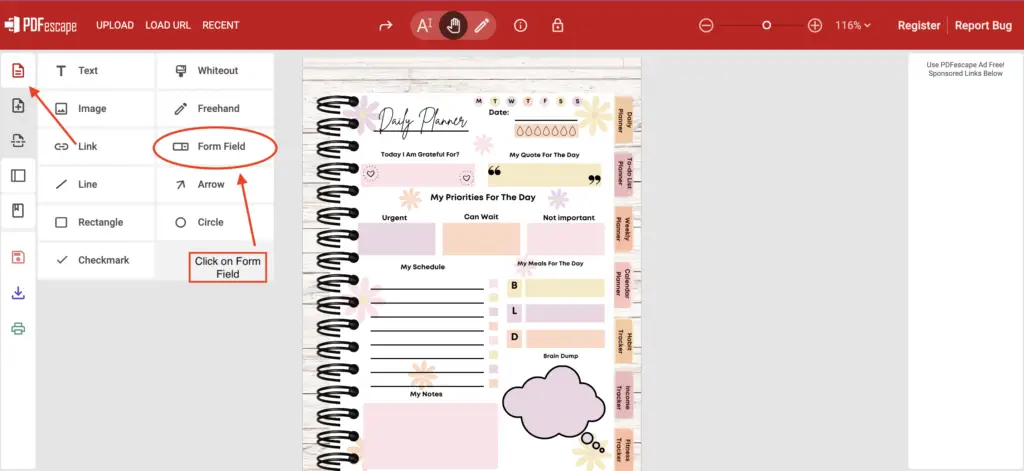 Place the form field boxes where you want to make fillable on your PDF document – you can also adjust the size using the pencil tool.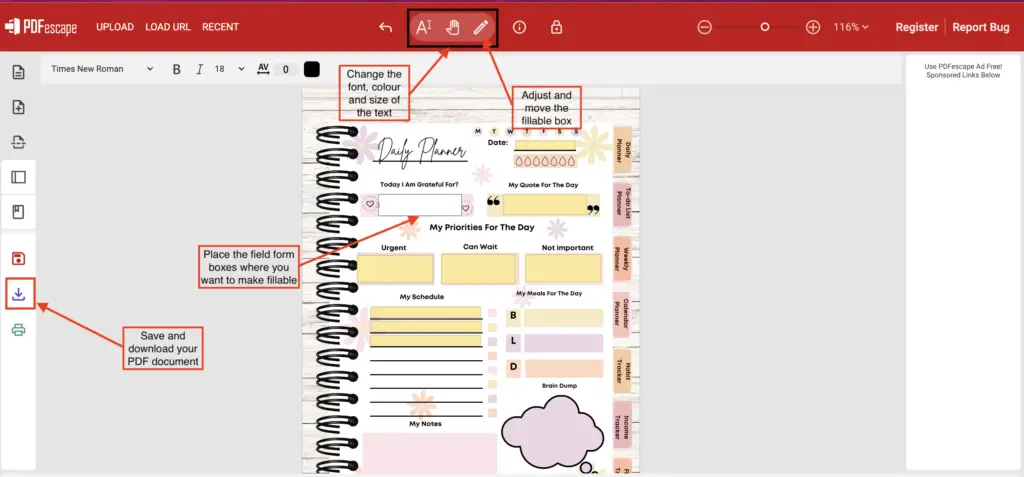 The only con with making your PDF document fillable for free with PDFescape is that you cannot make the fillable boxes transparent.
Sometimes it can even ruin your design.
Something to consider when using PDFescape to make your PDF document fillable for free.
How to create a fillable PDF Document using Acrobat Pro?
Another way to make a PDF file editable is by using Acrobat Pro.
Acrobat Pro helps you open, read, print, edit, and convert documents to PDF. Acrobat Reader also allows you to do some of the abovementioned things for free, apart from editing and converting PDF documents.
To create a fillable PDF file using Acrobat Pro, first open Acrobat Pro and select 'prepare form' on the right-side ribbon. If the 'prepare form' is not there, select 'more tools', and it should be there.

Sometimes, Acrobat Pro will automatically create the form fields in places where it feels it is needed.
To create a fillable field, select 'add text box field' at the top ribbon and place the text field in your desired area.
To change the font, colour and size of text, or the colour of the field box, right-click on the text box field and select 'properties' and 'appearance' to modify it to your liking.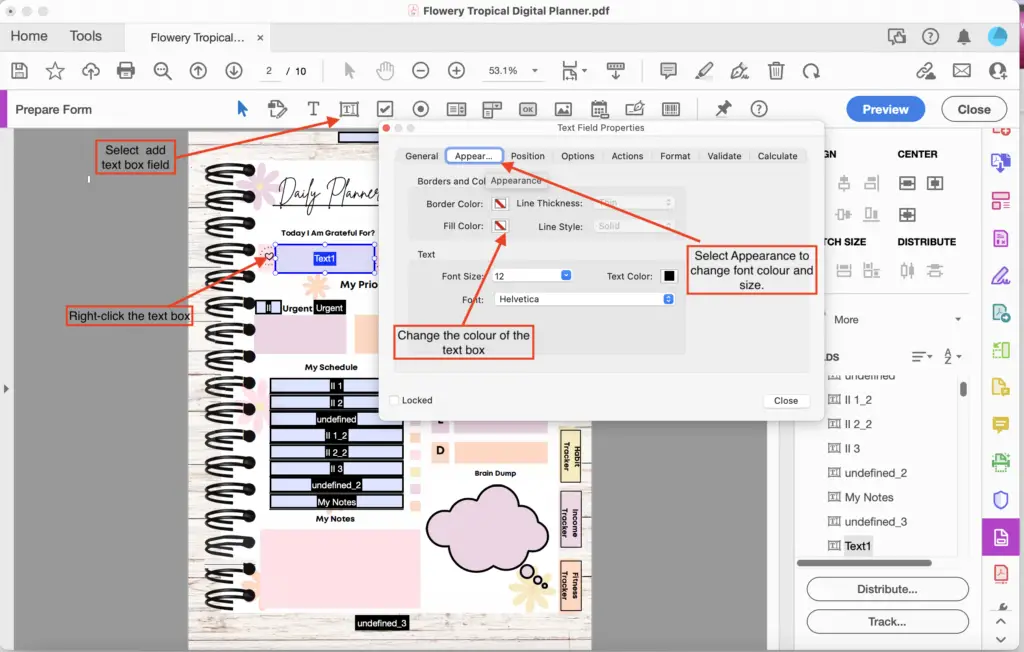 Acrobat Pro gives you free rein in creating fillable fields, from adding checkboxes, dropdown lists, buttons and images, and creating a date field and signature.
Final Thoughts: How to create a fillable PDF Document
There we have it! A simple guide to creating a fillable PDF document for free and using Acrobat Pro.
I recommend playing with both platforms to get your bearings when creating fillable PDF documents.
Also, don't worry if you don't have Acrobat Pro; PDFescape gives you all the tools to create fillable PDF documents for free.
I hope you enjoyed this blog post!
If you have any questions, let me know in the comment box below.
---
You May Also Love:
Tools To Use To Help Build Your Digital Planner Empire: