Selling digital planners on Etsy has become hugely popular and an easy way to make passive income in your sleep.
There has been a steep rise in the demand for digital planners, and after setting up my Etsy shop to sell digital planners in May 2022, I've made passive income quickly.
In this blog post, I'll dive into how to sell digital planners on Etsy by giving you an in-depth guide on listing your digital products and looking into the things you need to get started on Etsy.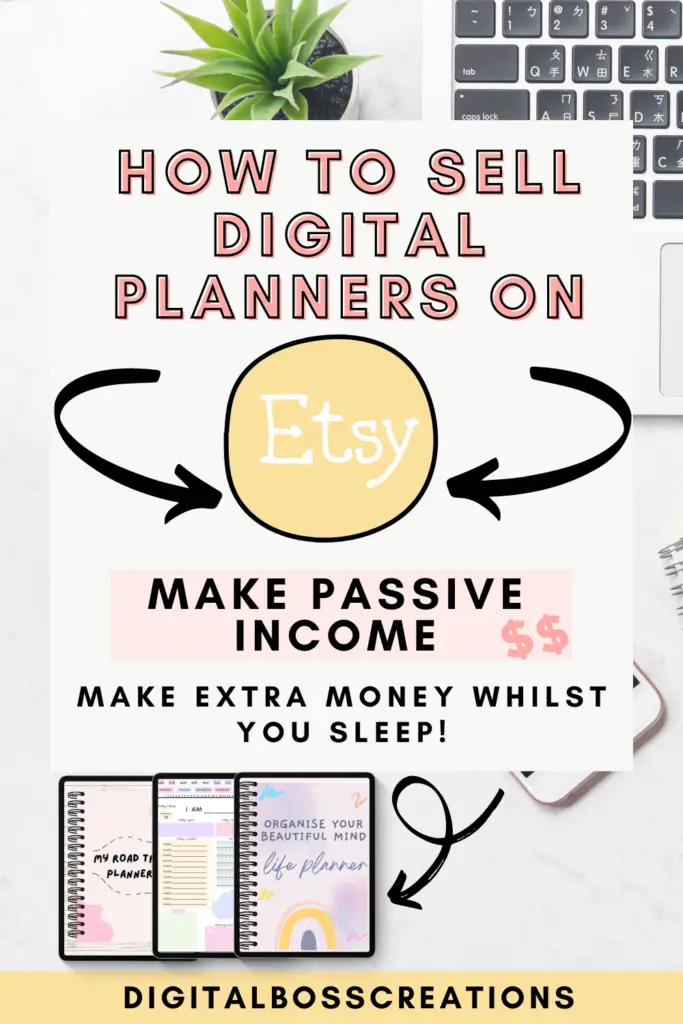 *This post may contain affiliate links, meaning If you use these links to make a purchase, I may earn a small commission at no cost to you. Thanks.*
What are digital planners?
Essentially, digital planners are the same as ordinary paper planners. However, the only difference is that instead of paper, the digital planners would be in a PDF file format, and the customer would be able to download their digital planner instantly – no shipping!
You can do so much with digital planners, from hyperlinking, adding digital stickers, and mix-matching different planner pages.
Overall, digital planners are amazing! 
I have created many digital planners using Canva (a fantastic graphics tool I'll get to in a bit), and I can honestly say I prefer digital to paper!
Why sell digital planners?
Digital planners are very easy to create. Once you have a few digital planner templates, you could use those as a basis to create many fabulous digital planners and make some extra cash.
Visit my digital planner tutorial to find out how to create a daily digital planner. 
You won't need to spend a lot (maybe nothing) or use many resources. 
You will also not need to deal with delivery, quantity, quality problems, or other logistics. Your customer will get everything they need after they download their digital planner.
And most importantly, you only need to upload your digital planner once and watch it sell like hot cakes!
I love creating digital planners. You can be as imaginative and creative as you want; customers will pick up on this and won't stop buying.
If you're looking for some ideas on what sort of digital planners to create and sell, pop over to the profitable digital planner post. 
One way to create fab planners is by using Canva. Canva is an incredible graphic software tool that is straightforward and FREE!
They do have a paid version called Pro, which I highly recommend because it gives you everything included in the free version and more. Plus, they are constantly updating and adding new features.
You can now sign up to start your 30-day free Canva Pro trial and see for yourself.
Also, I have a blog post that explains everything you need to know about Canva – don't worry.
What is Etsy?
Etsy is an online marketplace (e-commerce) platform that helps to connect independent sellers to buyers. It focuses on handmade or vintage items and crafts. Although, you can expect to find anything on Etsy.
Why sell digital planners on Etsy?
There are a few reasons why Etsy is perfect for selling digital planners:
Etsy allows you to set up an Etsy store for free with tons of helpful tools and resources. You're able to brand your Etsy store to your liking fully
Etsy makes it very easy to sell digital products for sellers (I'll get to how later).
Digital planners on Etsy are hot right now, so why not take advantage of that?
However, there are some things you need to take into consideration when selling digital planners on Etsy.
The fees!
Listing fees: you'll be charged $0.20 for each item that you list on Etsy to sell. If you select auto-renew, Etsy will automatically renew your listing at the end of the four-month period costing $0.20.
Transaction fees: when you make a sale through Etsy, you'll be charged 6.5% of the listing price (if you're selling from the US or Canada, the transaction fee will not include sales tax).
Offsite ad fees: Etsy purchases offsite ad space on Google, other search engines and social media. If a customer purchases your item via the Etsy offsite ad, you will pay a 12-15% transaction fee.
I know you are probably wondering if it's worth selling digital planners on Etsy if you have to pay all these fees – "Olivia, is it worth it?"
And my answer is yes! This is where a good business plan comes into play.
It would help if you worked out the costs for your digital planner business (or any business, really), like the software you'll be using, any graphics and fonts you'll be purchasing etc…
And then, decide on the price range you'll be selling your planner for.
Lastly, consider the Etsy fees and justify if you'll break even.
And because it takes little money and resources to create a digital planner, you would be able to break even if you sell it at a reasonable price point. 
But, having a business plan first is essential to planning your costs!
Get your 40 free listings today
To make things a little bit easier for you ( because I'm just that type of girl), you can get 40 free listings once you set up your brilliant Etsy store. Yep! You're saving $0.20 per listing, including auto-renew for 40 free listings.
This allows you to set up your Etsy store without having the initial burden of paying listing fees. 
To find out more about the Etsy fees, click here.
Other platforms you could use to sell digital planners.
There are other online platforms that you could use to sell digital planners:
Other digital products to sell on Etsy?
You don't need to sell digital planners exclusively. You are more than welcome to diversify and sell multiple digital products.
Here are a few ideas:
Printables
Digital stickers
Digital courses
Digital graphics
Digital prints
Digital invitations
How can I make passive income from selling digital planners on Etsy?
To make passive income from Etsy by selling digital planners, you need to:
Upload a digital planner listing and make money in your sleep – I'm not exaggerating
Have unique digital planners that customers want/ are looking for
Use low competition keywords in your target niche
Be willing to accept custom orders
Lastly, be patient customers will start buying your planner 
Things I need to get started on Etsy
 To get started on Etsy, there are a few things that you need: 
A bank account 
A shop name ( although this can be changed whenever)
A business plan
READ the Etsy fees and policies
Lots of research in your niche 
Scope out potential competition
Have at least 5-10 digital planners ready to be listed
Have an engaging shop front 
Having a shop description is important 
How to set up a digital planner listing on Etsy
Setting up a digital planner/product listing on Etsy is the same as a regular listing. However, there are a few key differences.
Images: with digital product images, you must be careful taking real-life images because it will confuse the customer. My advice is to create mock-up images which you can do on Canva or photoshop, to best highlight to the customer how digital products work. For more, visit my top tips on creating the perfect digital planner Etsy images.
Product type: here, you need to select "Digital" so Etsy and the customer know that it is a digital listing and no physical product will be sent to the customer
Description: in your description, you need to lay out what the customer will get explicitly. Here it would help if you mentioned that it is a digital product; therefore, nothing will be delivered to the customer. Also, mention what the customer will get – how many files? And remember to state your refund and exchange policy so the customer has a more precise understanding of the overall product you're providing. For more, visit my top tips on creating an SEO Etsy listing description
Quantity: digital products are everlasting and intangible, and you don't have a stock measurement. You upload a digital file to Etsy, and that sells and sells without you having to re-stock. Because of this, I like to set the quantity to 999 (unfortunately, they don't have an unlimited option yet!), so I don't have to renew the listing after every sale.
Upload your files: next, there is a selection called "digital files", where you can upload up to five files, with the maximum size for each file being 20MB. If you have more than five files, you can use zip files (which allows you to merge all your files into one).
Tags and keywords: ensure that you mention relevant tags and keywords. The keywords could be digital download, PDF file, instant download, digital file, and digital planner.
FAQs: how to sell digital planners on Etsy
Can you make money selling digital planners on Etsy?
You can make anywhere between $50-$5000 a month selling digital planners on Etsy. The key to having a successful digital planner empire is to create digital planners that customers are looking for and make them attractive and functional, making them better than the competition. Also, ensure that you research keywords and tags to help with the visibility of your digital planners.
Is Etsy good for passive income?
100%, yes! Etsy is an excellent way to make a passive income, especially starting out. You don't need to pay anything upfront, and Etsy makes it super easy to start selling on their platform. 
How much money can you make selling digital files on Etsy?
You could make $50-$5000 a month by selling digital files on Etsy.
Create digital planners like a boss babe course
If you want to learn the ins and outs of creating digital planners to sell on Etsy, my course, Create Digital Planners Like A Boss Babe, is for you!
This course is specially tailored to beginners to help them create fabulous digital planners that customers can't stop buying.
What's included in the course:
Easy to follow video tutorials to help you create digital planners from start to finish, using Canva and PowerPoint
Over 50+ free Canva templates to help you to create digital planners and to upload a digital listing on Etsy
Learn different graphic techniques using Canva
A free bundle of fonts and graphics that you can use for commercial use
Two bonus sections: how to add value to your digital planners & how to sell your digital planners on Etsy
A 30-day guarantee if you are unable with your purchase (which I'm sure is very unlikely!)
To find out more about this course, click here.
Final thoughts: sell digital planners on Etsy
Horray, you've made it this far!
That was a lot of information to get through. However, I hope you found this blog post helpful, as I know the world of selling digital planners and products on Etsy can seem daunting.
But, trust me, once you lay your foundations on Etsy and have listed your digital planners, you will see sales coming in!!
Let me know what you think of this blog post below or if you have any questions.
And remember…
You can start building your digital planner empire today with a 30-day trial of Canva Pro. And start selling digital planners like hotcakes!
---
You May Also Love:
Tools To Use To Help Build Your Digital Planner Empire:
If you are looking for some free resources, check out my freebies page!