So, you're ready to start creating digital planners; however, something is holding you back. You're stuck trying to find the best software to create digital planner pages.
Well, that's why I'm here!
I will help you find the best software perfect for your needs to help you in creating digital planners.
By the end of this post, you'll have all the info you need to select the top software to help you create digital planners and start making extra money.
Here is the 5 best software to create digital planner pages.
What is a digital planner?
Before we start, you may be wondering what a digital planner is.
A digital planner is like a paper planner, but you can use it digitally.
It is in a PDF file format, which you can use on annotating software or a note-taking app on any device.
A digital planner contains the same things as a paper planner, such as weekly, monthly, daily, and notes planner pages.
The best things about digital planners are:
Easily customisable
Duplicate as many pages as you want
Eco-friendly (paperless)
Hyperlinked tabs for an easier transition 
Add digital stickers and other digital accessories 
Easy to transport
What is the best software to create digital planner pages?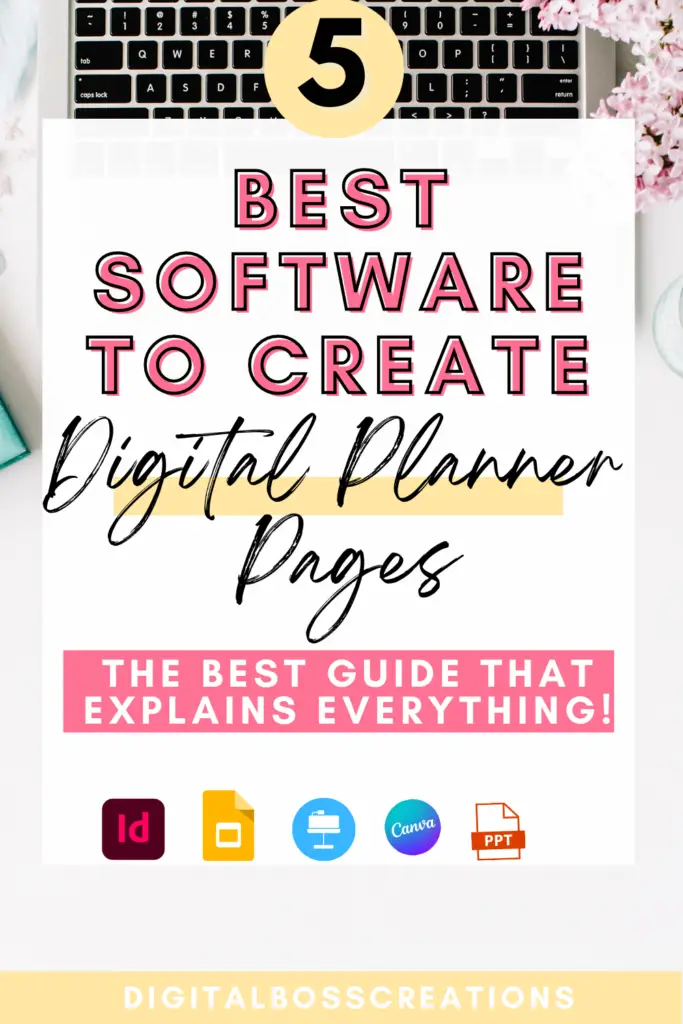 *This post may contain affiliate links, meaning If you use these links to make a purchase, I may earn a small commission at no cost to you. Thanks.*
One of the most popular software to use to create digital planners is Keynotes.
Keynotes is an Apple program which comes with any Apple device and is free to use.
It is similar to Microsoft PowerPoint because they are both software applications created for making presentation slides.
However, the creativity of Keynotes users has spanned to create many things using Keynotes, and digital planners are one!
Keynotes allow you to hyperlink your digital planners and upload fonts and graphics.
The main cons with Keynotes are that you must be an Apple user to use it.
It takes some time to get used to, especially if you're not an everyday Apple user.
Although apart from that, Keynotes is one of my top picks as an easy-to-use free software to create digital planners.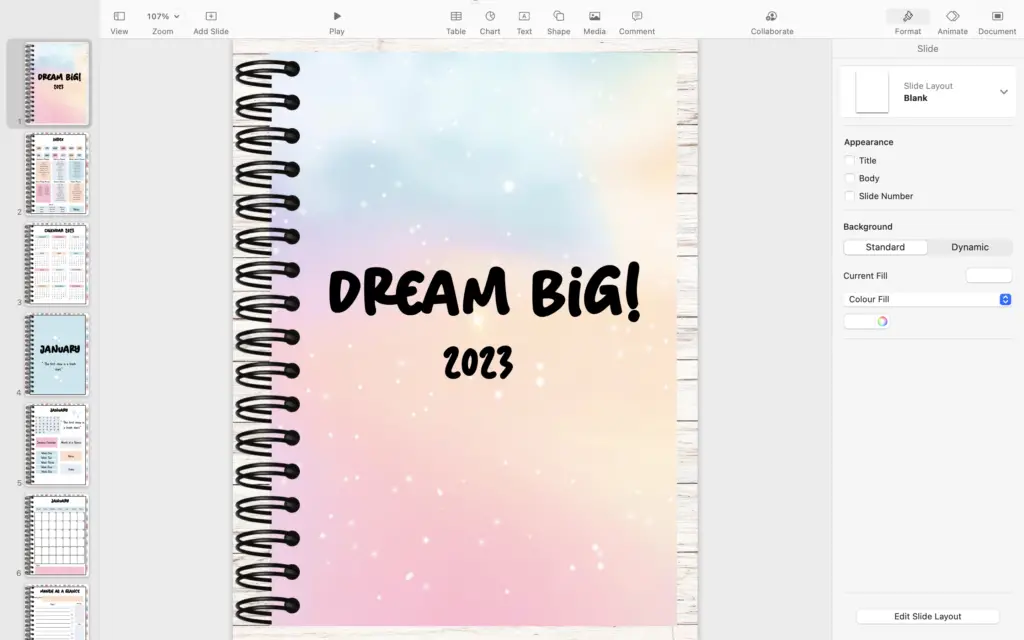 PowerPoint is for all users with access to Microsoft Office.
You can use it on any device, whether Apple or Android.
Creating digital planners using PowerPoint is simple to use, particularly if you're familiar with Microsoft Office Programs.
Although it's not free, you would likely have to pay $8.25 per month or $319.99 for a one-time purchase.
I use PowerPoint to create and hyperlink my digital planner tabs and find it much easier to use than other programs.
Again like with Keynotes, you can upload your fonts and graphics.
Also, PowerPoint has a range of tools, functions and neat effects that you can use to create digital planners.
And PowerPoint is deffo the top pick for designers (including myself) to create digital planners.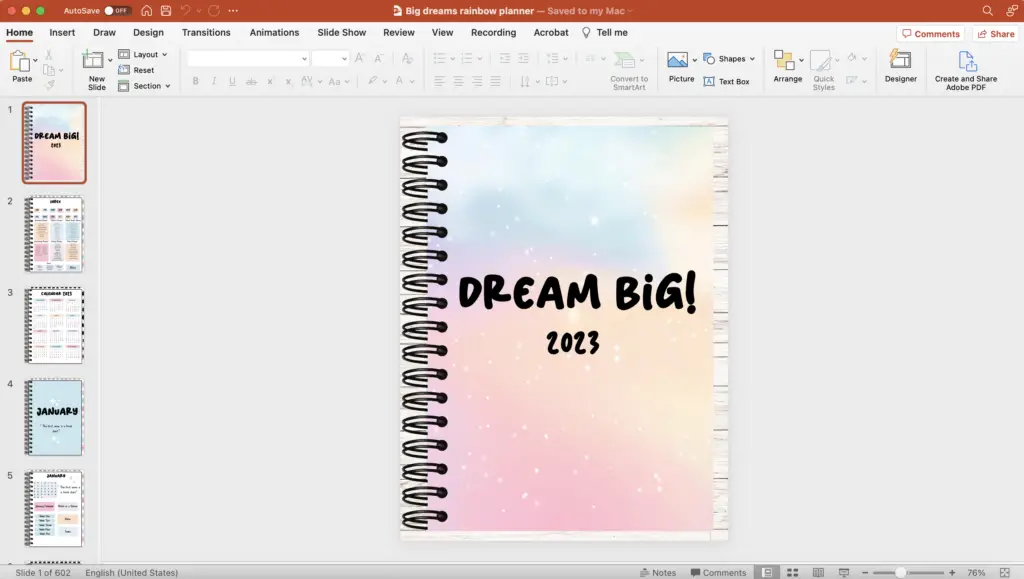 InDesign is an Adobe software for creating layouts and page design; it lets you design a wide range of content for web, print, and tablet apps.
It comes with various features and tools to help you create professional-looking content.
However, just like with all Adobe software, you would need a lot of training to use Indesign confidently.
Furthermore, Adobe Indesign is one of the priciest software for creating digital planners.
It costs $20.99 a month or $50.99 a month and includes Creative Cloud.
If you are considering Adobe Indesign, consider your competency level in using Indesign, if you would need further training ( which could add to your costs), and whether you want to invest $20 a month for Indesign.
Google Slides is one of the most straightforward programs to create digital planners.
It's easy to use and highly user-friendly.
You don't need to pay or install Google Slides onto your device; both Andriod and Apple users can use Slides.
However, even though creating digital planners using Google slides is easy to do, it does have its drawbacks:
It lacks advanced features and tools!
You're not allowed to import your fonts – so you're stuck using their default fonts.
In addition, it doesn't have many shapes and elements, and you cannot align objects and add effects to shapes.
Even though it has some limitations, it is a great program to use if you are a beginner and looking to create simple digital planner designs.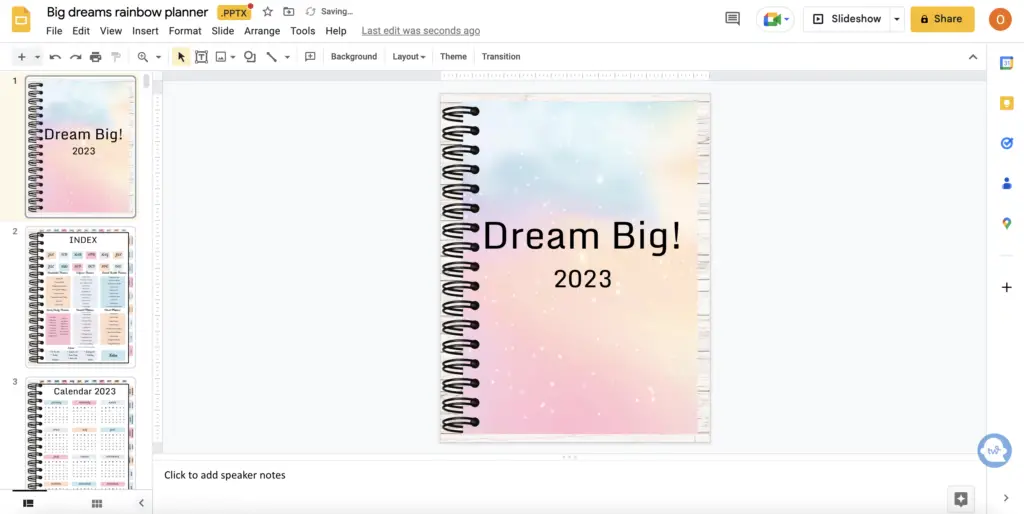 Okay, I'm biased regarding Canva, as it's my absolute favourite.
Canva is undeniably one of the best software to create digital planners!
Canva is an intuitive platform that you can use to create posters, presentations, printables, social media posts, and digital planners.
It has sooooo many different tools and features that will allow you to create pretty sell-worthy digital planners.
You also can upload your fonts and graphics.
It's super easy to use, user-friendly and perfect for beginners wanting to start creating digital planners.
The only cons with Canva are that the app version could be better and has a different function/tools than the desktop version. 
Also, you can only create up to 200 pages per design (but you can use a 3rd-party merger to merge the pages).
Canva has a free and paid version (Pro). I recommend Pro as you get what's included in Canva free and more. Plus, it is very affordable at $11.99 a month.
However, if you're unsure, I have a 30-day Canva Pro trial to see how truly incredible Canva really is!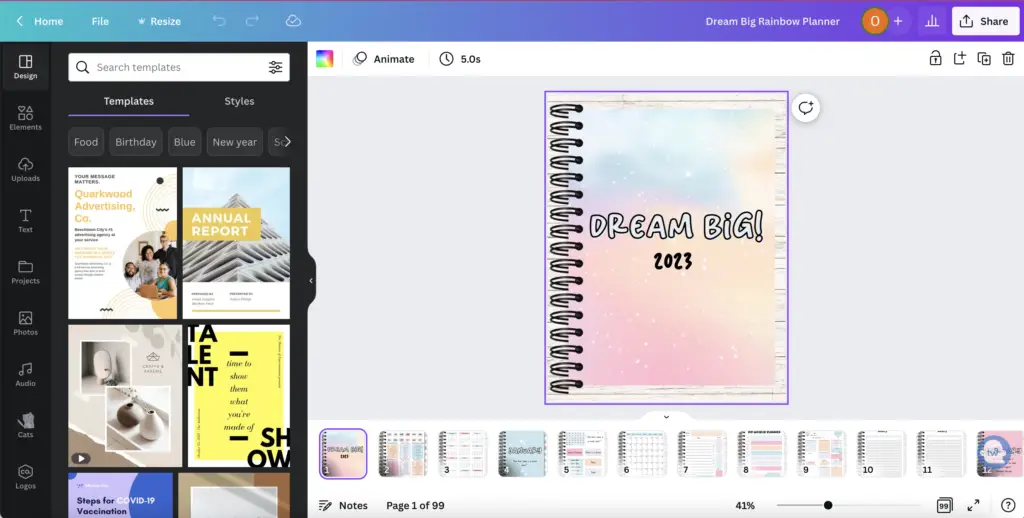 Are you ready to create your own digital planner Like a boss babe?
I have created a course called Create Digital Planners Like A Boss Babe to help digital planner creator beginners get that stepping stone they need in building a successful digital planner empire.
This course is made by me, a non-graphic designer who has been able to create fun, engaging digital planners and make money from selling them!
I will teach you how to create amazing easy-to-do digital planners using a simple FREE tool called Canva.
Yep, no fancy design software and tools are required!
Do you want to create digital planners but don't know where to start?
Do you want to make a passive income between $100- $3000 a month?
Do you have no graphic design or art experience but are willing to learn how to create digital planners?
Then this course is for you!!!!
Final thoughts: the best software to create digital planner pages
And that's it, folks; My top 5 best software to create digital planner pages.
Each of the programs mentioned has its perks in creating digital planners.
However, if you're a newbie, I highly recommend using Canva (remember to access your 30-day free trial) and PowerPoint, as it will simplify the digital planner creation.
Let me know your thoughts in the comments section below, and remember to share this post.
---
You May Also Love:
Tools To Use To Help Build Your Digital Planner Empire: