Have you come across PLR Planner Templates and wondered what that is?
Or do you need help using PLR planner templates for your online digital planner/product business?
If this is you, you're in the right place!
Like you, I didn't know what PLR planner templates meant and didn't know how to incorporate them into my digital planner business.
However, after extensive research and creating my own PLR planner templates just for you,  I have successfully uncovered the secrets to successfully using PLR templates.
If you want to increase product sales and productivity or increase your email subscriber list.
Don't worry; I got you!
In this blog post, I'll explain what PLR planner templates are and how you can use them in your online biz successfully.

*This post may contain affiliate links, meaning If you use these links to make a purchase, I may earn a small commission at no cost to you. Thanks.*
What are PLR Planner Templates?
Private label rights (PLR) are when a content creator creates a product, and a reseller purchases it and then sells it to a buyer.
In a nutshell, PLR is an agreement between the content creator and the reseller where the creator gives them the rights to resell their product.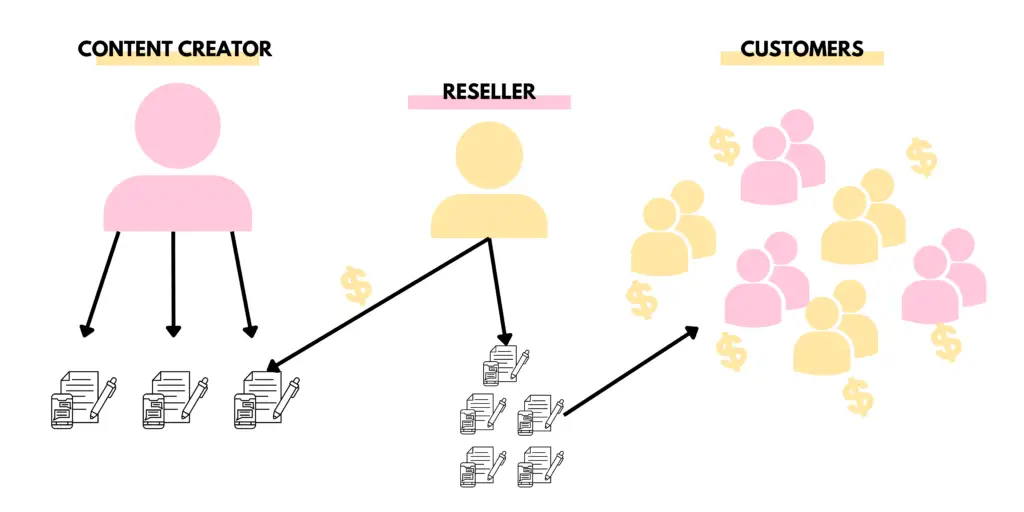 Regarding PLR planner templates, ultimately, these are planner templates that give the reseller the right to resell the planner templates on Etsy or other platforms.
There are many different types of planner templates like daily planners, self-care planners, mental health planners, calendars, beauty routine planners, travel planners, and the list goes on.
Incorporating PLR planner templates into your online biz will help your biz grow, and here is why.
Why are PLR Planner Templates key to your biz success?
1. Saves you time
Having a set of PLR Planner templates allows you to save more time in planner creation as the reseller (online biz owner).
Think about it. You'll have a ready-made planner, essentially, and you only need to change the colour, font, and other things to match your branding.
(You could also outsource your fonts and graphics using platforms like Creative Fabrica, Creative Market, and Etsy)
And that's it; you won't need to go through the whole planner creation process.
And because you're saving sooo much time in creating your planners, you can focus your time elsewhere in your business—for example, marketing, ads, or building an email list.
2. Streamline your brand
With PLR planners, they can help you keep the flow of your biz smooth and well organised; because you're cutting down time with planner creation, you're removing layers of your biz operations that can help simplify things.
And because of this, you can focus on your brand more by allowing you to delve into your brand's key features.
In addition, streamlining your brand will also help customers identify/recognise your products and brand with ease.
3. Ability to create unique designs
PLR planner templates can help you create unique and engaging planner designs. 
The reason why is that with PLR planner templates, you can focus more on the design of your planner, like fonts, graphics, and colours, creating really distinctive planners using the planner templates as your basis.
Also, the planner templates take away the part of what you need to incorporate into your planner.
Instead, you can focus your attention more on the quality of your planner and what you can do to elevate your planner from your competition.
4. Sell the same planners in different variations
When selling planners or digital products, the key to increasing sales is to create more high-quality products.
One way to create more products is to create the same product but in different variations.
For example, I have created a pink digital budget planner, but I could also create the same budget planner. However, instead, I can change the colour to purple, I could make it a printable planner instead of a digital planner, or I could add something to it like digital stickers.
When it comes to PLR planner templates, it allows you to create multiple planners using one or maybe two planner templates.
How can you use templates for your biz?
The one thing that is a must in any digital product business is templates! 
Templates are life. They make running an online biz so much easier and save you so much time and effort.
 I use templates daily for my full-time job as a Business Analyst and my digital planner biz.  
You can use templates for basically everything regarding your digital planner/product business.
Here are some ways to use templates:
Payment notes to be sent to your customers
Email templates to send to your customers and subscribers
Social media posts
As you can see, there are many templates you can create and use multiple times for your business.
DBC PLR Template shop
Are you starting a digital planner or product biz and want to make things much more manageable and create unique digital products?
Well, just for you, I have a variety of PLR templates that will help you in your digital product journey.
If you're looking for planners, planner covers, and sticker templates, head to my PLR Templates Shop, where I have many affordable templates for you to choose from to help you succeed in your biz.
All of the PLR templates are accessible via Canva ( which is free to use). This will allow you to modify and create fabulous digital products ready to be sold on online marketplaces.
And to top it all off, I have a 15% discount code!! Just use DBCTEMPLATES at the checkout, and your new product awaits downloading.
Final thoughts: What are PLR Planner Templates? PLR Planner Templates are key to your biz success
And that's it, folks; A quick guide to PLR planner templates and how to use them in your biz successfully.
I hope you have found this blog post helpful and now how an idea of what PLR planner templates are and how you can use them to increase product sales, to help make your planner creation much more straightforward and saves you much time.
Remember to check out the DBC PLR Template Shop to get affordable PLR Templates instantly!
Let me know if you have any comments or questions in the comments section below.
---
You May Also Love:
Tools To Use To Help Build Your Digital Planner Empire: